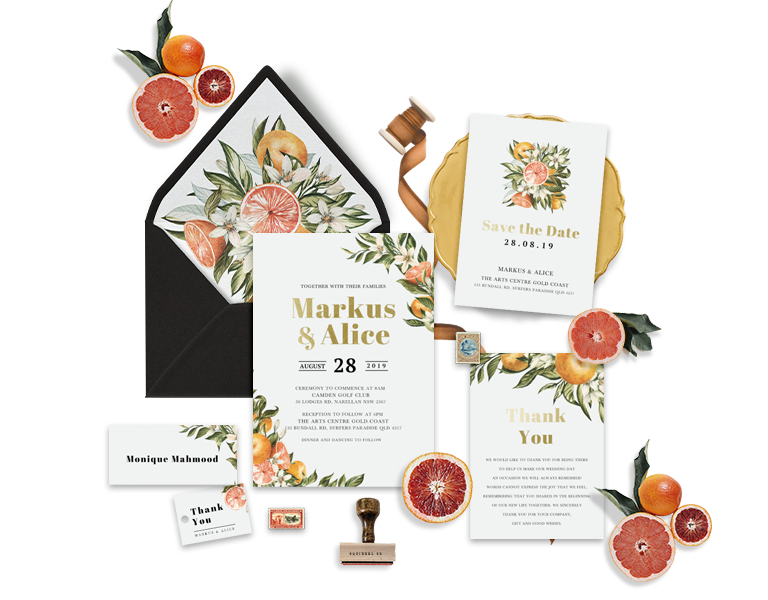 BUY NOW PRINT LATER
Don't let it stop your wedding planning
We hope you and your family are well and safe during this critical time. We are still open and we work from home. We understand this is not an ideal time for you to organise a wedding. So, we offer a "Buy Now and Print Later" option which lets you take advantage of current promotional offer, even when you still don't have a fixed wedding date.
Plus, you will have the flexibility to adjust the order quantity and specifications to meet your final wedding requirements. As long as the total amount is within the price bracket, the discount will still be applicable.
We also have "Change the date cards" which is designed for those that have secured a venue on a later date but don't want to reprint the whole set.is also available for purchase.

POPULAR DESIGNS​
Starting from RRP AUD $ 1.35
PROMOCODE FOR EVERY BUDGET
Purchase now and save up to 40%
SPEND AUD $350
and get
20% off
Promocode
SPEND AUD $700
and get
30% off
Promocode
SPEND AUD $1100
and get
40% off
Promocode
Enjoy 20% off
SAVE / CHANGE THE DATES & ENGAGEMENT
Designing your wedding stationery should be fun and stress-free. Here's a step-by-step guide to help you get started
Order Online
Go to our website and make purchase before the promotion ends
Request a quote
Know exactly what you want? Or perhaps you just need a little help making your designs a reality. Click below and we will provide you with quotations for the design that you love
Sample Kit​
We encourage all of our customers to order a Sample Kit before placing their final order. That way you'll get a better impression of how your designs could look and feel.
Add Personalised Foil
Add foil to lift your stationery from ordinary to extraordinary. Classy, elegant and sure to impress your guests.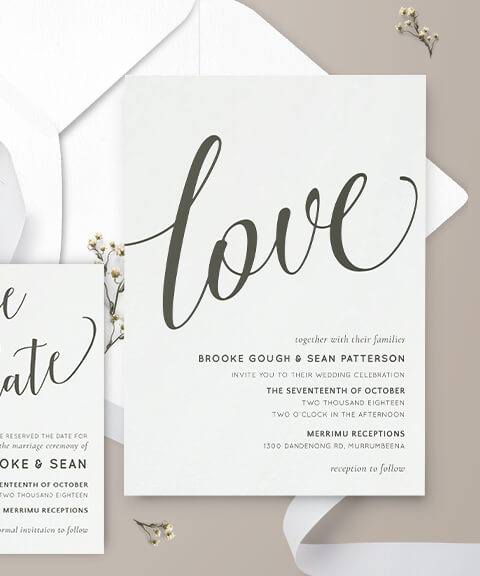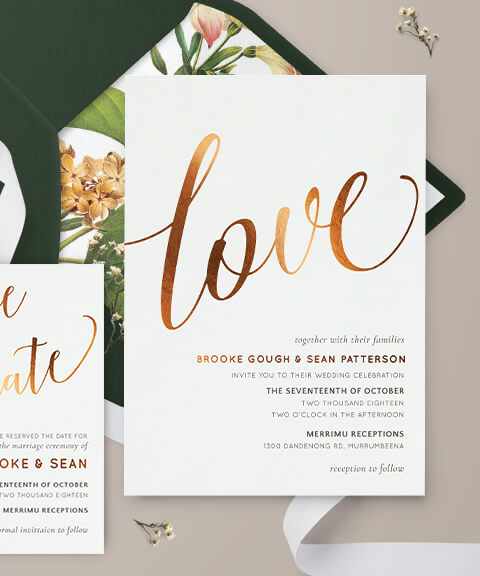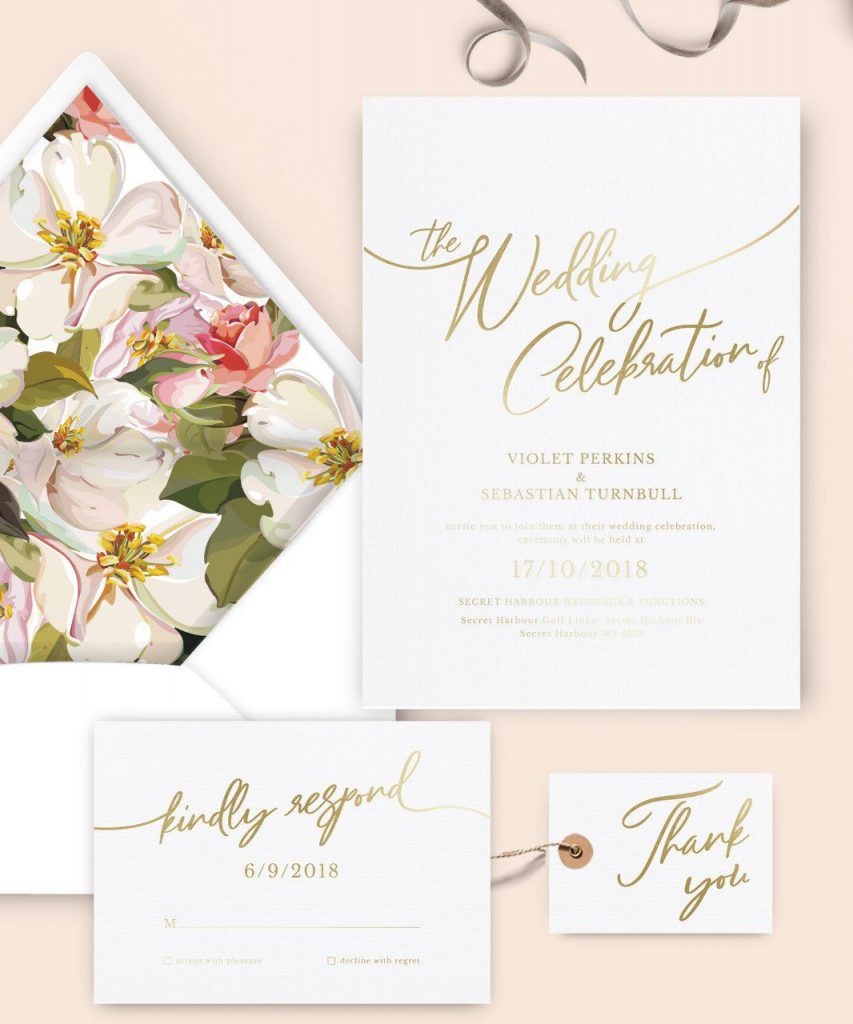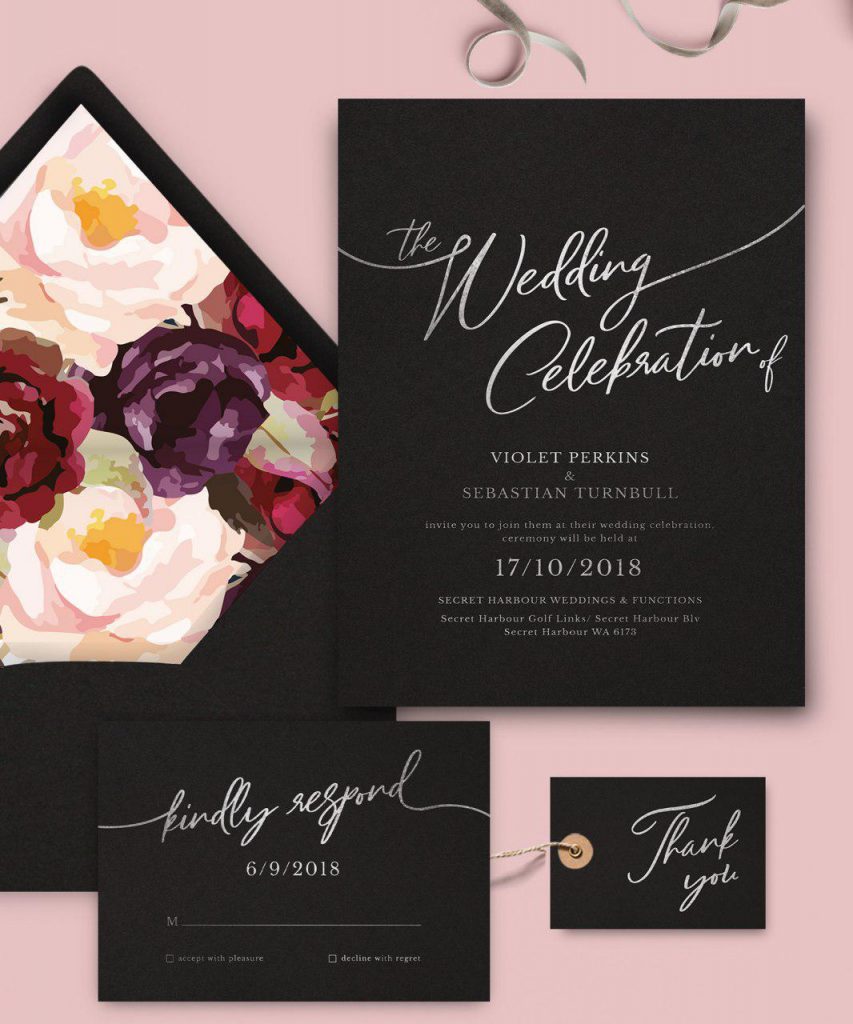 Paper Choice​
Our quality paper are the perfect canvas for your designs. Select your paper from white, navy or black. And if you have another colour in mind, please let us know – we have more!
Design Customed For You
All designs on our website are 100% customisable from the fonts, wording, layout, colour theme, graphics and design elements. So if you find something that you like but would like it customised, we definitely can do it for you.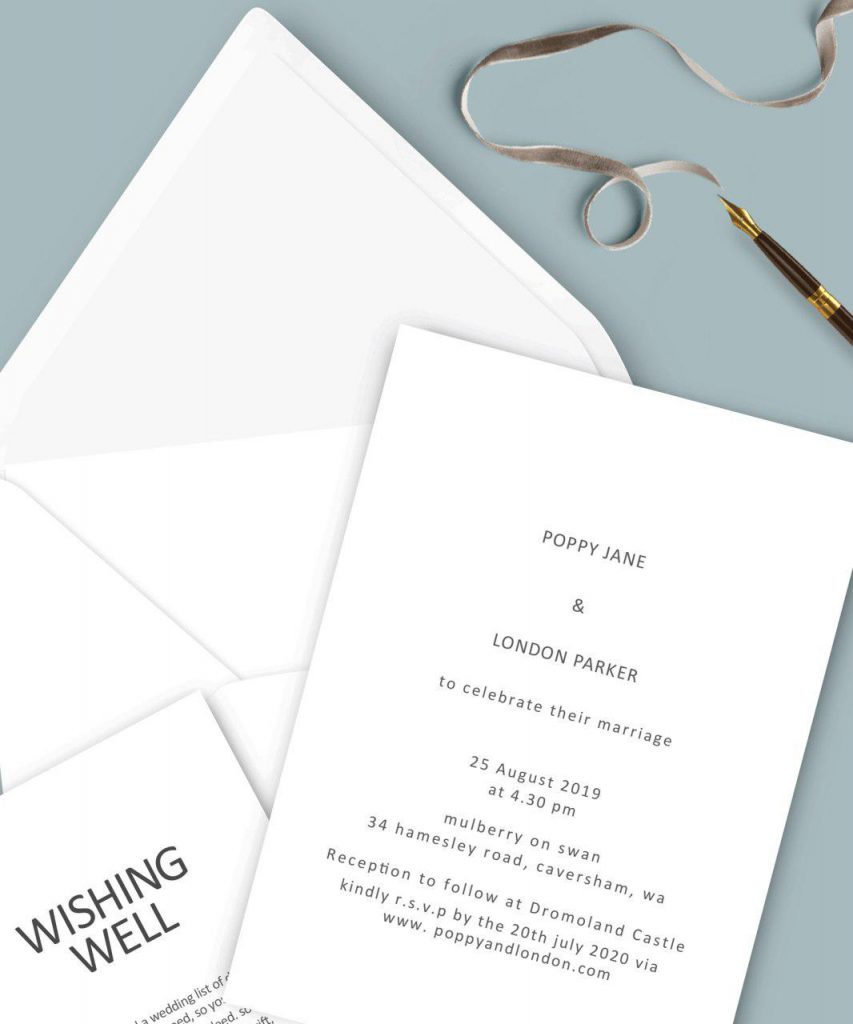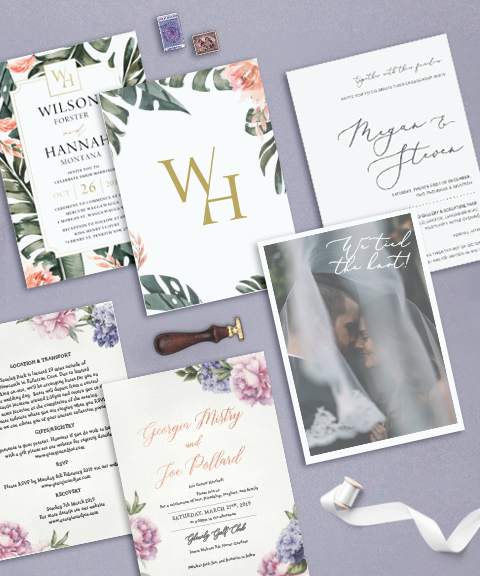 Print backside and save costs​
By adding more information or a monogram print, this option can elevate your card whilst saving money. The most popular items to print on the backside are Wishing well poems, details for the accomodation and custom monograms.
WIDE RANGE OF FINISHINGS​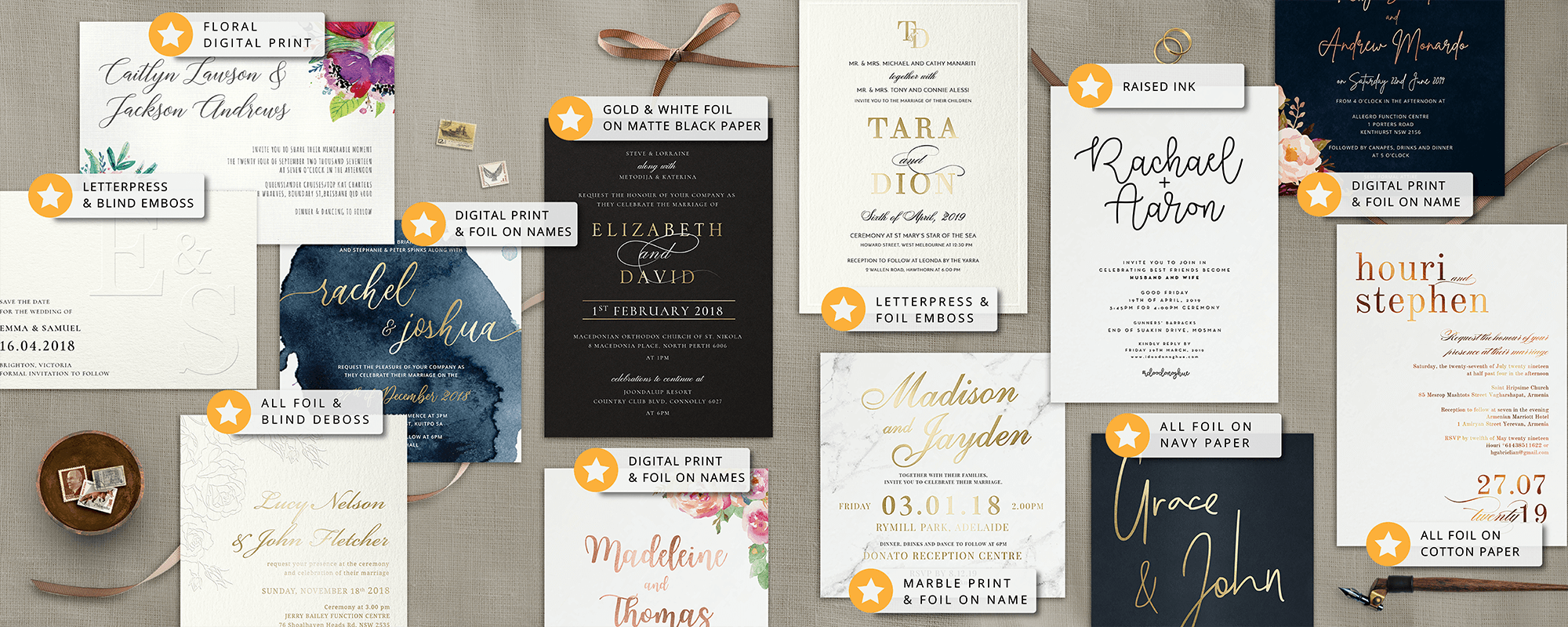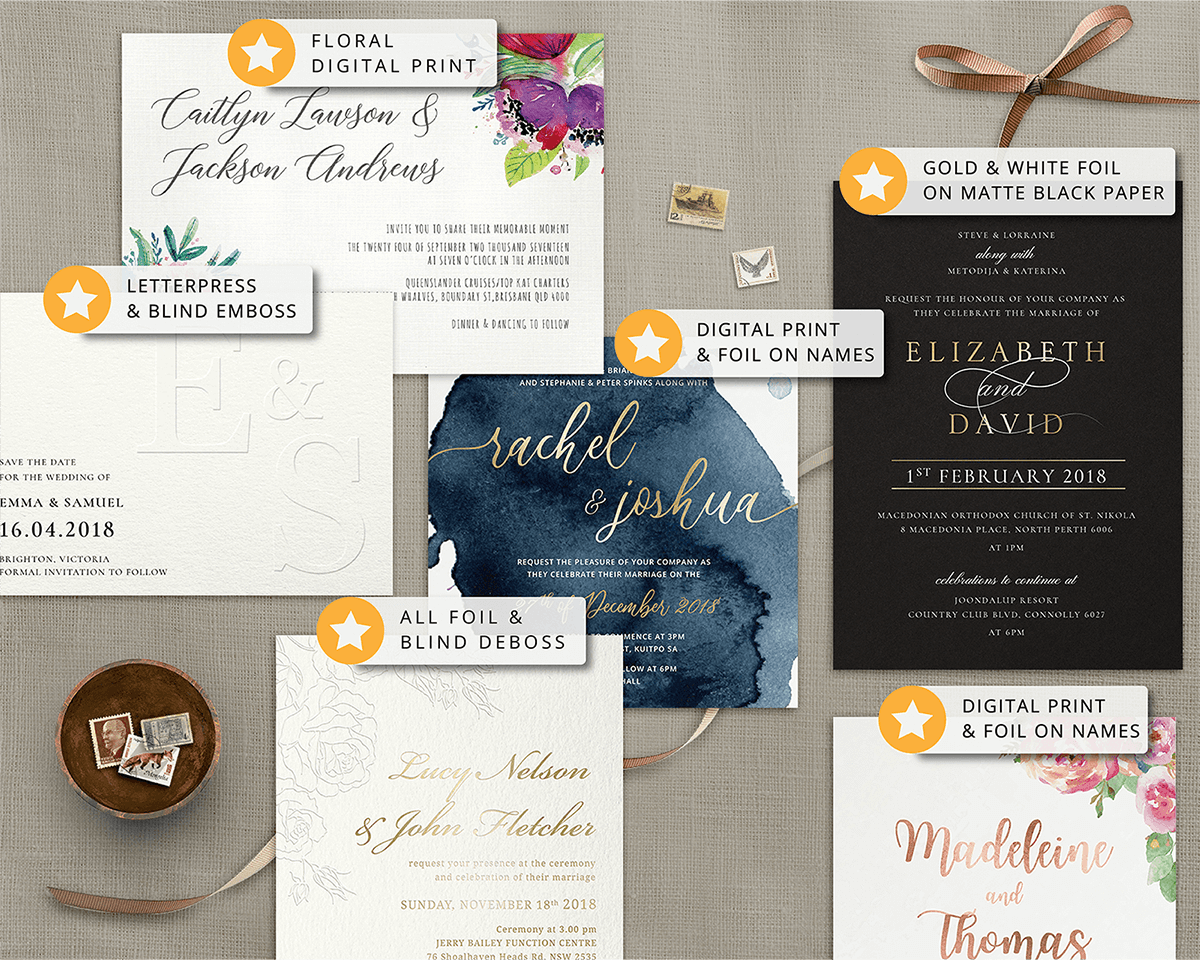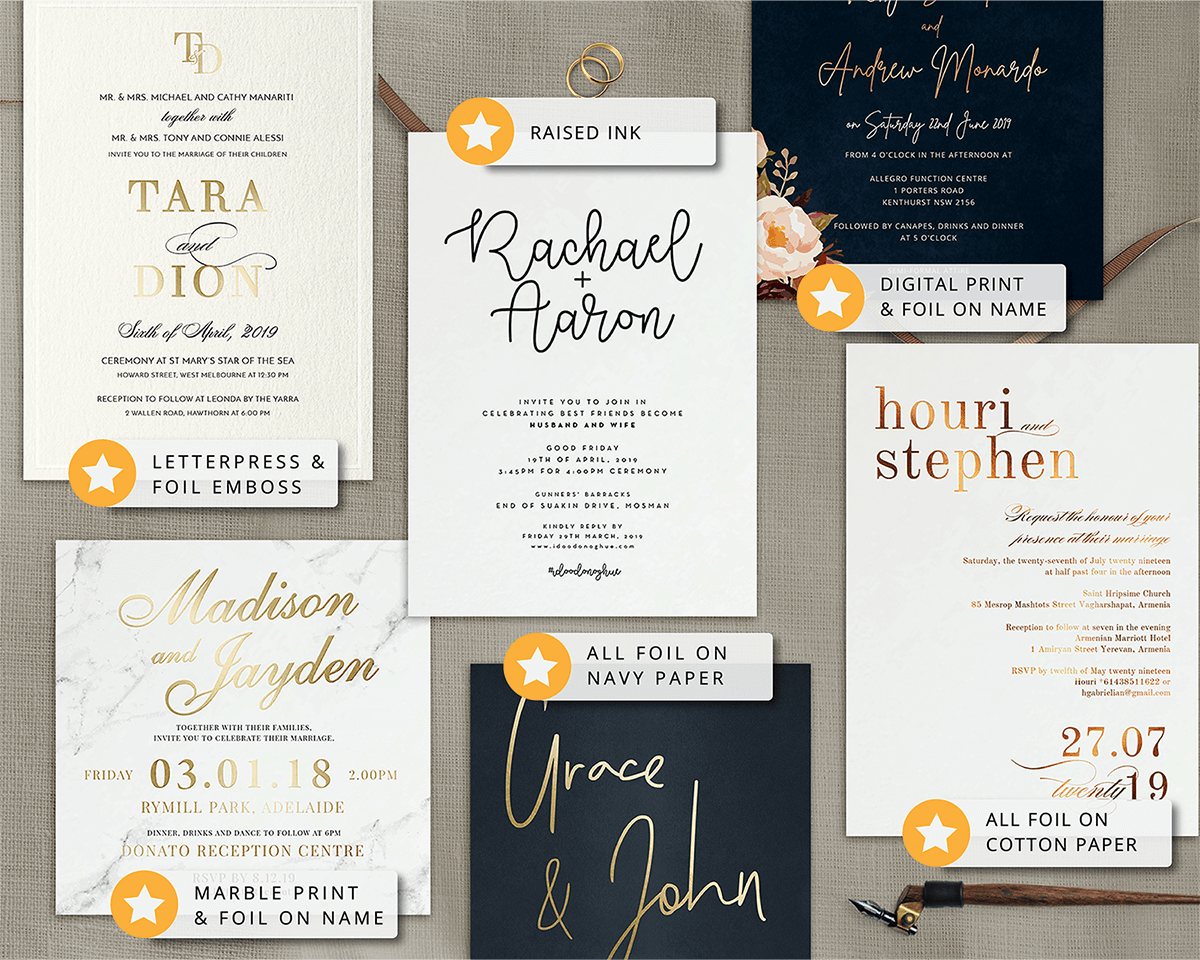 Can I pay in installments? - New feature
Yes, now you can pay in installments with HUMM. Please check the following link for details of how you can benefit from this program.
What are the terms and conditions of this promotion?
The purchase must to be made via our website
Minimum purchase of each discount promotion must be met
You are required to input the promo code before checkout
Multiple promo code entry is allowed
For all other general questions, please check our FAQ page
What if I'd like to use the discount, but I'm not ready to print?
As long as we are still in the early process of designing, you are entitled to a refund.
Can I cancel my order later?
As long as we are still in the early process of designing, you are entitled to a refund.
Can we bring our own design?
Yes, you can but they will need to adhere to our size and paper stock. Please rest assured, our designers will help you with any design updates and finalisation.
Can you design our wedding invitation from scratch?
We do offer a complimentary semi-custom design service when you print with us. However, we do need a clear brief to pinpoint the design direction.
These are a couple of things that may incur design costs: 
Custom illustration

Custom calligraphy

Requesting assets that need to be purchased online
If you have any thoughts or questions, please contact us using the link below
Can I print on the backside of the card?
Printing on the backside of the card is possible, but with some limitations. For instance…
1. We can't letterpress the backside of a letterpress design, nor print full colour
2. For foiling you need to use 600gsm to achieve the best result
Do you offer other special finishings?
Yes! Finishings and embellishments are our specialties. Please contact us if you are interested in any of finishings below as they are not available online; thus, require a custom design request:
Raised Ink

Foil Edging

Emboss

Laser Cutting

Die Cutting
For more information, please check out Our Special Finishing
What if I like some parts of the design but I would like to add more customisation?
All designs on our website are 100% customisable from the fonts, wording, layout, colour theme, graphics and design elements. So if you find something that you like but would like it customised, we definitely can do it for you. 
What if I like a particular design but it's out of my budget?
There are many ways to bring down the cost. However, the most economical option is digital print and all designs can be tailored to suit this print method. Please speak with our consultant and we'll work out a specification to meet your budget. 
Will I be able to see the design before you print?
Once the order is placed, one of our designers will contact you for the initial design stage. You'll have the opportunity to adjust the design until you are completely satisfied. We will only print once we've received your final approval.
What is the turnaround time for designing and production?
Production takes 5 days to 15 working days depending on the complexity of your design, and delivery takes 3-5 working days depending on your location. 

The design process varies between clients so please spare 3-7 days for this process. If you are on a tight schedule please let us know so we can act accordingly.
We'll plant a tree for every $50 spent* at our shop & donate 1% of sales to TreeSisters.
About TreeSisters
TreeSisters are a women-led charity dedicated to helping businesses reforest the planet. As of October 2019, they have funded over 6 million trees across Kenya, Madagascar, Brazil, Cameroon, Nepal and India.
TreeSisters combines five of today's major issues: gender, climate, consciousness, behaviour change and ecological restoration through massive tropical reforestation. They are unique in their grass roots approach to include and involve everyone, focusing on a wider cultural shift that embeds restoration into everything. With their initiatives, they hope to encourage businesses to commit to make a lasting change.
Why We Joined
Our waters, land and biodiversity are being threatened due to climate change. If we don't act now, it may be too late to save our planet. Through reforestation, we can help to protect the environment and be a part of a greater impact.
As a business that profits from the resources we take from the earth, it is only right that we give back to the environment that we consume. So we have partnered with Tree Sisters to give back to nature and make a small difference. We aim to help replenish the Earth's soil by pledging to plant a tree for every $50 spent* in our shop.
*Not including sample kit purchase